Blue Chip Products
Functional Hoofcare is proud to bring Blue Chip products to our area as a "Blue Chip Partner" with Blue Chip Australia & Pondfield Equestrian.
I personally have used these products for a number of years and found them to be of the highest quality, ensuring my horses look fantastic and feel great all year round. I think you will find the same for your own horses by simplifying your feed program with a Blue Chip Balancer + lots of fibre = happy horses. Also this can reduce the cost of your feed bill as you won't need to be adding other supplements to your daily feeds. The availability of Blue Chip products in our area has been limited at best so I decided to bring them to Mount Gambier myself, so that I could continue to use them and also on behalf of other horse owner's in our area.
Blue Chip Feed Limited was founded in 1996 by Clare Blaskey in the UK, and was named after her horse, Blue Chip. Having had horses all her life and whilst working for another feed company, Clare knew there had to be a better way of feeding horses and ponies.
This was both veterinary science and the realisation of the importance of nutrition in the human athlete had greatly evolved. Feed Balancers were a totally new concept and created a new way of feeding horses and ponies so they receive maximum nutrition and optimum health and wellbeing in the simplest way possible for the owner.
As a result of research & Product development, all Blue Chip balancers have:
Digestive Supplement
Combining a high concentration of probiotic with nucleotides. Proven to increase forage digestibility by up to 100% by a study conducted by Hartpury College.
PrimoVento™
A complete respiratory supplement with antioxidants, menthol, eucalyptus and garlic to soothe the airways and maintain lung health and integrity.
De-stressor
Magnesium is included to keep horses and ponies calm and stress free. In addition the digestive supplement will settle the digestive system ensuring horses feel comfortable and relaxed.
SoundHoof
A complete hoof supplement with biotin, methionine, lysine, organic zinc and organic copper for the formation of strong, pliable, good quality hooves.
Antioxidants
Selenium, Vitamin C and Vitamin E to aid the 'mopping up' of free radicals and promote a healthy immune system. Blue Chip uses naturally sourced, fruit derived Vitamin E, which is 4-6 times more bioavailable than the Vitamin E found in most feed products.
Nucleotides
As well as forming a key part of the double-action digestive supplement, nucleotides are essential building blocks of DNA and RNA and are therefore essential to every cell in the body. Nucleotides help support immunity, stamina, cell replication and repair of cell damage.
A Complete vitamin, mineral and nutrient package
This ensures the correct functioning of the metabolic system, central nervous system, immune system, proper growth rates, bone strength and joint health. Blue Chip uses organic/chelated minerals to ensure optimum absorption and effectiveness.
Feed Balancers in the Blue Chip range are:
BLUE CHIP ORIGINAL
Only $2.60 per day for a 500kg horse
Feed alongside either your horse's usual diet or preferably a fibre based diet for horses and ponies in light to moderate work. Feed in combination with fibre such as chaffs, hay, beet pulp products, Maxisoy super fibre, etc. No additional supplementation required.
Ideal for Show horses, broodmares and foals, weight gain/condition, building muscle and topline, competition horses up to Novice level.
Feed at 100g per 100kg of bodyweight and introduce over a week. Lasts a 500kg horse 40 days
20kg bag: $105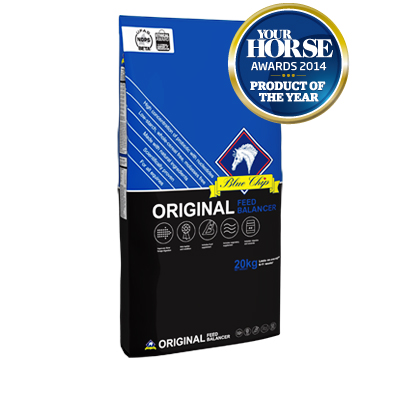 BLUE CHIP DYNAMIC JOINT AND BONE
Only $2.80 per day for a 500kg horse.
Can be fed alongside Original, Pro or Lami-light or on its own.
Ideal for competition horses, foals from 3 weeks of age & young growing horses, bone problems, veteran horses.
Promotes joint health, mobility & strong, dense bone.
Feed at 100g per 100kg of bodyweight and introduce over a week. LASTS A 500KG HORSES 40 DAYS
20kg bag: $115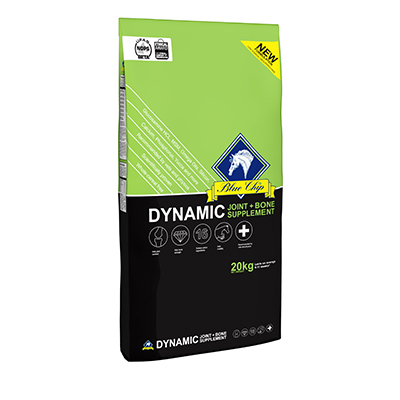 BLUE CHIP PRO – performance balancer.
Only $2.90 a day for a 500kg horse
Can be fed in conjunction with grains and/or oils or just fibre. Enables hard feed rations to be reduced. No additional supplementation required. Feed at a rate of 100g/100kg bodyweight.
Ideal for horses in hard work, veterans and those with compromised digestive systems eg, colic, scouring, bacterial infections and horses on antibiotics.
Feed at 100g per 100kg of bodyweight and introduce over a week. Lasts a 500kg horse 40 days.
20kg bag: $117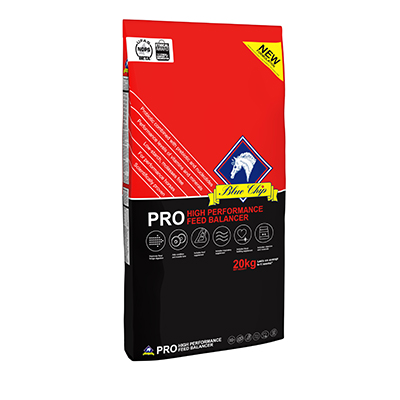 BLUE CHIP LAMI-LIGHT – Low Calorie Feed Balancer
Only $2.95 per day for a 500kg horse.
Feed alongside a fibre diet with no additional supplementation required. Feed in combination with any fibre products such as chaff, low nutritional quality hay, beet pulp products, Maxisoy super fibre etc
Ideal for laminitic prone horses and ponies, good doers, box rest during injury, insulin resistant horses and ponies.
Feed at 100g per 100kg of bodyweight and introduce over a week to 10 days. LASTS A 500KG HORSES 30 DAYS
15kg bag: $90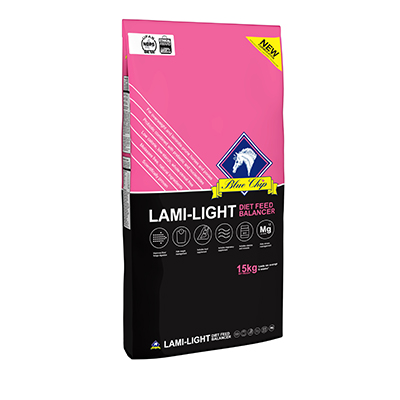 Blue Chip products can be ordered by email or phone and delivery can be arranged within 10km of Mount Gambier, or pick up can be made in Mount Gambier, SA.
Please contact Michelle on 0419 118 037 or michelle@functionalhoofcare.com
For more information on Blue Chip products visit www.bluechipfeed.com.au
Example of feeding Blue Chip Feed Balancer
The main components of a Blue Chip diet are simply fibre/roughage + Blue Chip (easy!). Fibre comes in many forms and you can mix and match to suit your horse/s, such as hay, chaff, chaff nuggets, sugar beet pulp or copra meal.
If you would like a diet consultation for your horse go to www.bluechipfeed.com.au and click on "Ask our nutritionist".
Below is an example of the daily feed for one of my own horses.
Timmy: 16hh 8yo Thoroughbred Gelding, recently finished racing and now having a break, looking to be brought into work in another equestrian discipline. He has not been weighed so I am feeding for a 600kg horse (assumption is that he is between 500-600kg).
This horse has access to good pasture 24/7, if he had restricted or poor grazing I would simply increase his hay volume.
Daily Feed regime:
Morning- 500g lucerne chaff (2 dippers) + 2 cups Speedibeet (measured before soaking) + 300g Blue Chip Original. Plus 1 biscuit oaten/pasture hay mix.
Evening- 500g lucerne chaff (2 dippers) + 2 cups Speedibeet (measured before soaking) + 300g Blue Chip Original. Plus slow feeder hay net of oaten/pasture hay mix (approx 3 biscuits) overnight in a smaller paddock area.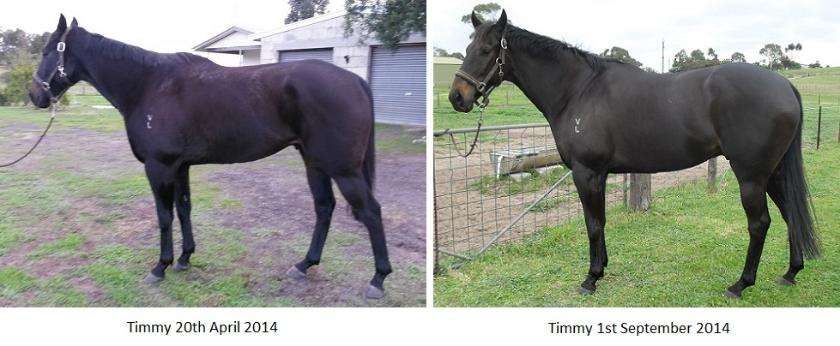 Blue Chip Yarra Valley recently received this feedback about Fonz:
What a great start to my holidays when a client of mine; Eliza Harvey messaged me with an update on her eventer Fonz.
Fonz and Eliza are a pretty well known team around the Pony Club and EA circuits and for those of you who know him or Eliza know that he has never been huge on eating.
By adding Blue Chip Pro to his diet and increasing his fibre content after just one week Eliza had this to say: "Hey Larnz,
Fonzy is now trotting up to get his breaky and dinner( in fact he stands around waiting for lunch too!)
He is licking the bucket clean and.. Has put on weight!
I'll send a picture, obviously it's blue chip and it's pretty cool!
He's also gleaming in the sun.... He's shinier than he ever has been!( if that was possible!)"
Cannot wait to see these two in action in 2016!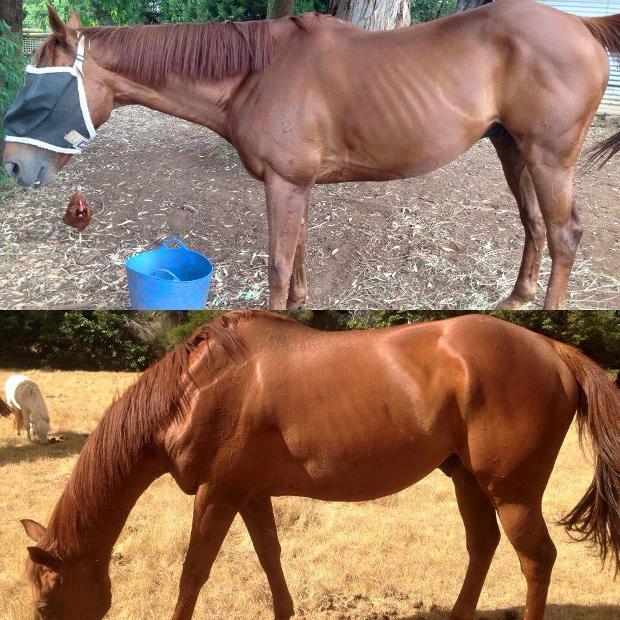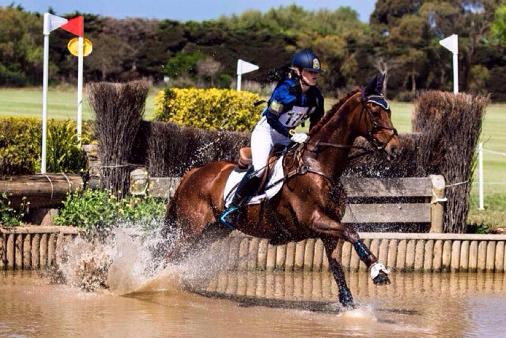 From the Blue Chip Australia Facebook Page:
Rescue TB Albert who is celebrating his 18th Birthday today and looking wonderful on his Blue Chip Pro. Thanks to his owner Kym Scott and Blue Chip Partner Amanda Lewer in Victoria for sharing his photo with us and Happy Birthday to Albert who is enjoying the perfect birthday present - optimum nutrition for a happy, healthy long life!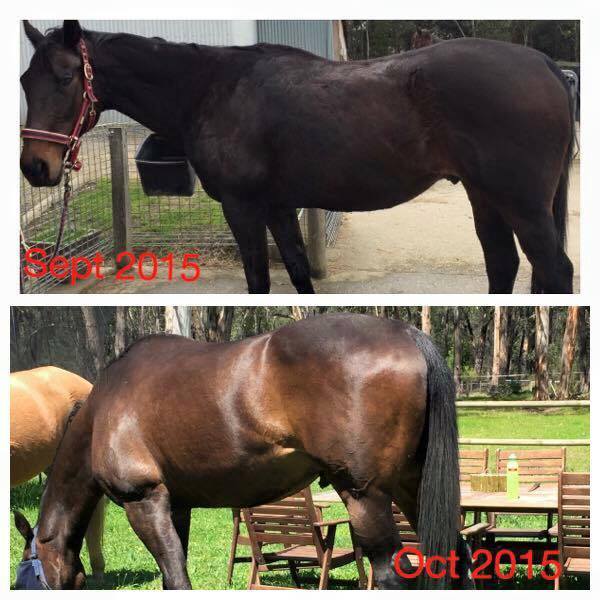 From the Blue Chip Australia Facebook Page:
Blue Chipper Claire Evans sent us this photo of her beautiful Ghetto. "Ive got to say after a month on Blue Chip Lami Light the results show for themselves. An extremely shiny coat and picture of health. Thank you"
Thank you Claire for getting in touch and showing us Ghetto, who is fed 500g of Lami Light per day mixed with fibre. He certainly is a shining example of what Blue Chip can do!